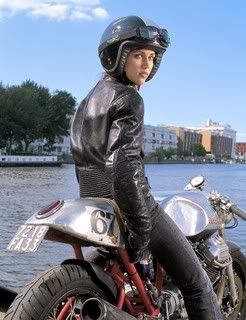 No caferacer website will be complete without the famous picture of the Davida girl on the Guzzi. The Story:
Photographer/artist and sometime bike-builder Ben Part has his own café vision, and that manifestation has created a plusing sub-culture that's grabbed the imagination and interest of motorcyclists all over the world. "Zagato Guzzi is my take on the Brit-style cafe racer" says Part. "But with more speed and reliability." His first (right, and below) grew to global prominence as the feature prop in a Davida helmet ad. Rumor has it Davida isn't taking any more calls about the bike, being not a bit happy it is attracting more attention than the helmet...or the pretty model seated on it!
We're not sure why Ben has chosen to graft his creations with the 'Zagato' script, but it could have something to do with Zagato's place in the auto-fashion industry. A design consult/engineering firm located just outside Milan, founder Ugo Zagato's advanced techniques on everything from airplanes to passenger cars soon became synonymous with light weight and aggressive posture.
If that's the case, the name fits.


"I'm not a pro bike builder per say," continues Part, "but I ended up building a replica for Ewan McGreggor of Trainspotting & Star Wars fame. My bike has been built -funding & time permitting- over the the past 14 years of ownership. I've used one-off, second hand, vintage, plus a few high tech bits. The first actually started as a complete SP1000, but there's nearly nothing of the original bike left."
Now christened "OB1" the original spurred OB2 (below) which retains the original spec's round barrel Guzzi engine and monoshock rear suspension, but using an abbreviated frame section that seems to draw inspiration from both Dr. John Wittner and the renown Lino Tonti. The swingarm pivot and frame "V" is pure Tonti, but its monoshock -with attachment via the upper loop, more 1100 Sport/Daytona like.
A closer look at the rear axle/bevel box reveals what looks like 1100 Sport style square-section. Strange and wonderful. The front appears a bit more straight forward, using a spine-frame timing cover/mount but leaving the lower engine-block holes uncovered. No idea on the forks, but the front rotors are standard 1100 Sport parts mated to vintage 2p Brembos. Sinister with blacked-out wheel rims, fork sliders and frame sections, yet retaining that classic alloy hue all great café racers must have, OB2 sucks its exhaust in close and makes no excuses. If a bare boned, muscled persona is your idea of café perfection, then you may have found it right here.
What's next? We'd be happy to ask the elusive Mr. Part...if we could find him. There are a few shots of the new 'OB3' floating around the web; again Guzzi powered, splashed with alloy and sporting a highboy, hotrod exhaust, but that's all we know. Whatever happens, Part's instinctive and memorable creations will always be welcome here.


Nolan Woodbury
Special thanks to VMOL contributor Graham Jackson (A.K.A: 'GuzziJack') in the U.K.